In my previous posts I talked about being mobile and using Skype for Sales Calls on the Cheap which is great when you are in range of WiFi at home or a hotspot within the airport, hotel or coffee shop.   But what about when you don't have access to WiFi?
The answer is tethering.   What is it?  Tethering, is the term when using your mobile phone as a modem to provide the internet connection to your computer.  If you have your trusty laptop and a mobile phone with a data plan you are almost ready to start tethering.  Only a couple of more pieces of the puzzle are needed.
First you will need the same USB cable that you use to sync your mobile phone with your laptop.  Or if your phone and laptop both support BlueTooth you will not need the USB cable.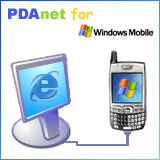 Secondly you will need the software to make it all happen.  Quite a few mobile phone providers want to sell you an upgrade to your monthly service to do this but no worries you can do it for a one time software purchase of PDAnet for $34 from June Fabrics – PDA Technology Group.  They support many of the PDA type mobile phones such as iPhone, Android, Windows Mobile, Blackberry, Palm OS Treo and Centro.
Once you have the software installed on both your mobile phone and laptop keep in mind that you are still at the mercy of your mobile data plan in regards to coverage area and performance.  In one area you maybe able to make that Skype call via your laptop without any problems but that doesn't mean it will work everywhere.
Let me know how this article has helped you.
Mike Herz is in Tech Support and Sales at PagePath Technologies. PagePath was founded in 1983 and is headquartered in Plano, Illinois. PagePath's MyOrderDesk is an eCommerce solution that combines, Web-to-Print, automated proofing, pricing, reordering and more. It seamlessly integrates into a printing organization's existing website or can be used as a standalone site. MyOrderDesk is known throughout the printing industry as the leader in Web-to-Print software.